The Rev. Thomas Williams, (? - 18th June 1770)
latterly of Gosport in England
and Rebecca Williams (nee Isgar / Isger) 1713 - 8th April 1799).


THIS PAGE IS A BRIEF INTRODUCTION TO THE REVEREND THOMAS WILLIAMS
AND HIS WIFE REBECCA

THOMAS:
Thomas first appears on the scene just before the 1750's. There are two respectable sources of information which refer directly to him.

One, from the 'History of Dissenters..', is shown on the right (here for full text), and refers to Thomas taking position of Pastor at the Gosport UK, Independent Chapel in 1750. This was not some small, out-of-the-way position. The History of Portsmouth states that the 'Independant Chapel at Gosport is a handsome, spacious, brick ediface in the High-Street capable of seating twelve hundred persons'!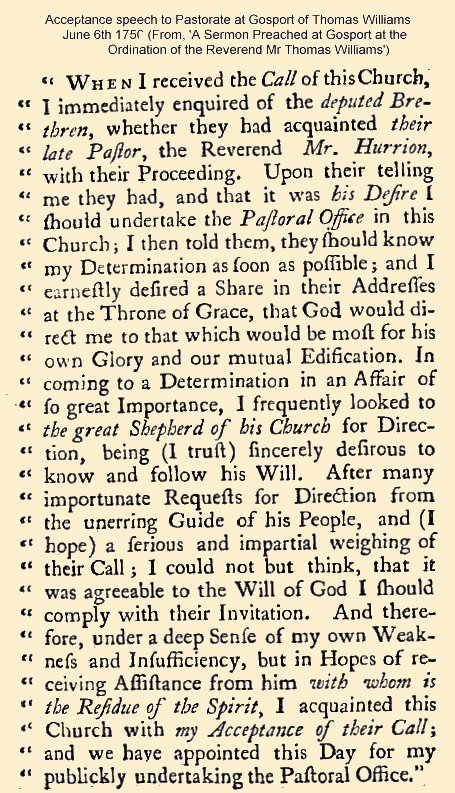 This next extract (to the right) is the oldest record we have of words that Thomas spoke. They are from his acceptance speech on 6th June 1750 at his ordination ceremony for the Pastorship .

All indications are that Thomas was a very sincere, well-loved, fine gentleman whom was in the forefront of Spiritual understanding at that moment in time.

It was shortly after that, on 6th August 1750, that Thomas married Rebecca Isgar. The marriage was at Rowner, about 5 miles from Gosport.

REBECCA:
In the Hampshire Parish Registers under marriages, Rebecca is given as, 'Rebecca Isgar of Gosport', (and Thomas as a 'teacher of dissenting congregation at Gosport'). To date (2010), we can not accurately take the origins of the family (Williams's) beyond Gosport.

In the John Marsh Journals of 1783 when Rebecca would have been 60, there is written the following, '...old Mrs Williams was rather particular & very rigid in her opinion (as was Mr W's elder Sister)'. This was written at the time of the wedding of Thomas and Rebeccas' son, another Thomas (jnr). The 'elder sister of Mr W' (Thomas jnr) was Rebecca's daughter who was also named Rebecca. Rev. Thomas and Rebecca had 3 children in total (that we know of), Rebecca (jnr) b. 1751, Thomas (jnr) b.1753, and Lydia b. 1757.

LINKING THE FAMILY MEMBERS:
Above is the so far confirmed beginning's [see also the Williams of Chancefield research which may possibly take the family origin back further] of the many thousands of family members that there are today. It is satisfying to be able to piece the people together with a genuine story backing it up. To this end, the John Marsh (1752-1828) Journals have been very helpful. John Marsh was one of the most prolific English composers and writers of his time, and Thomas Williams jnr married Mary, John's sister! John writes in April 1783,
"I must now relate a circumstance that happen'd a few weeks before, viz. a visit from Mr Thos Williams, Mercer of Gosport (Son of the late Dissenting Minister there & nephew of our Acquaintance Mrs Hammond there) who about a week or two after I retum'd home from Chichester & Gosport in February, came to announce himself the accepted Admirer of my Sister (which it seems had been settled between them previous to my being at Gosport) & requesting my concurrence, & presence at the Wedding to give her away etc. - - - As my Sister was now 26 Years old & wo'd have no fortune 'till after her Mother's Death, & as Mr Williams was a Man of good Character & in a very good & respectable way of business, the only objection I co'd have to this Union was the difference of Religion, Mr Williams being a Dissenter. I however found it needless to start any difficulty on this head (in respect to Children) as it seems every thing was settled between themselves, independent of my concurrence."
Note that reference is made to Thomas jnr being a nephew of Mrs Hammond - so piece by piece the family members and relationships start to come together, vindicated of course by other sources.

Nevil Harvey-Williams spent many years piecing together many of these details, and the following references to his work on this website will give greater details on all the above.


An extended tree of the one above (or for larger screen)

Further details of Rev Thomas at Gosport

Some details of Thomas Juniors siblings and children.

HOME PAGE

ABOUT / CONTACT