More of Tom's Letters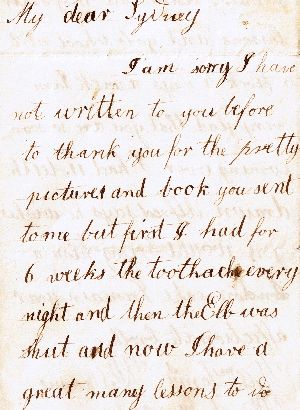 These letters are much clearer than this, (size and quality reduced for web page)
Tom is now 8 1/2 years old.
My Dear Sydney
I am sorry I have not written to you before to thank you for the pretty pictures and book you sent to me but first I had for 6 weeks the toothache every night and then the Elb was shut and now I have a great many lessons to do. I learn latin English and geometry besides all my other lessons and go to school at 8 o'clock 4 days a week I am very glad that you are so soon coming over I had 11. teeth drawn Alfred says he wishes you would bring him a London cake I remain your affectionate brother
Willm Toms Williams
March 19. 1838
My dear Sydney

I am very much obliged to you for the very pretty book which you were so good to send me. We are very sorry that you do not come back again to see us this summer - Cousin William has been here from London we like him very much we have not yet been to Fuschenbeck but shall go perhaps in the autumn -
Your affectionate brother

Tom Williams
Give my love to the Hogarths I am obliged to stay at home because I have sprained my ancle very bad
The writer of this letter is 8 year old Harry Williams, (a nephew of Tom's). The recipient, 'Grandmama' is Caroline Williams (nee Heath), wife of Th. Sydney Williams.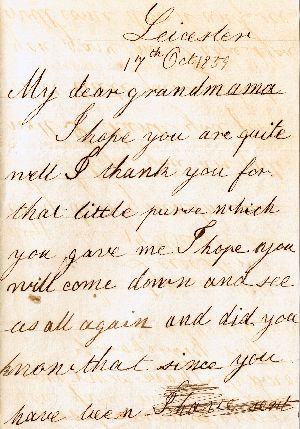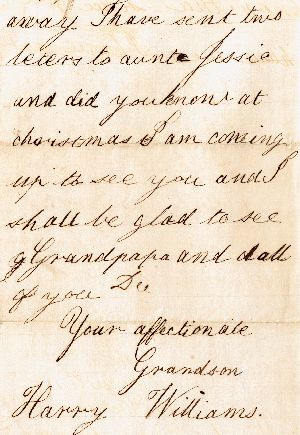 Leicester 17th October 1859 My dear Grandmama
I hope you are quite well I thank you for that little purse which you gave me. I hope you will come down and see us all again and did you know that since you have been away I have sent two letters to aunt Jessie and did you know at Christmas I am coming up to see you and I shall be glad to see Grandpapa and all of you
Your affectionate
Grandson
Harry Williams